Shaolin Temple 2 Kids from Shaolin 1984 JPN BluRay Remux 1080p AVC DTS-HD MA 2 0-ZQ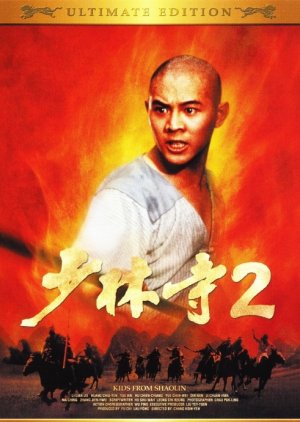 Shaolin Temple 2: Kids from Shaolin (1984)
Director: Hsin-Yen Chang
Stars: Jet Li, Lan Ding, Qiuyan Huang, Chun Hua Ji
Runtime: 99 minutes (taken from iMDB)
Genre: Action, Comedy
Rating: 6.4* (may differ)
Votes: 1288 (may differ)
Release Date: 1984-01-26 (taken from IMDb)
Viewer Rating (TV/MPAA): TV-14 (taken from IMDb)
Summary: Two rivaling families live on opposite sides of a river. One of them practices Shaolin kung fu and has only sons, while the other has only daughters and practices the Wu-Tang sword. The father of the Wu-Tang family is so paranoid about the Shaolin kids stealing his sword style (besides, he wants a son to teach it to, and the closest thing he has is a lesbian daughter) that he is taken off guard when some real bad guys come along to kill his family, but the Shaolin family helps them out. All the while, everyone is desperately trying to get the lesbian girl to marry Jet Li.
Links: iMDB
Direct Download Links:
Shaolin.Temple.2.Kids.from.Shaolin.1984.JPN.BluRay.Remux.1080p.AVC.DTS-HD.MA.2.0-ZQ
---
Please Note:
1. If any password is required, it will be the domain of the site – sn___.it.
2. If you're taken to FileCrypt – please enter the password, solve the captcha and click on the download DLC button –
Use the DLC on JDownloader2 or dcrypt it to get access to the links.
3. Please use the latest version of 7-Zip or WinRAR (Windows), p7zip or unrar (Linux) and Unarchiver or Keka (Mac) to extract the files, depending on the file format.
Extra protection has been added to this release as it may have been taken down recently or there is a risk of it being taken down soon. Thank you for your understanding and we hope you enjoy the content.